About
We had  a dream. The dream to travel the world to meet inspiring changemakers and help them solve some of their challenges.
Everything started reading the adventures of Christian de Boisredon (Le tour du monde de l'espérance) and of Mathieu Le Roux (80 hommes pour changer le monde) who were tired of hearing only bad news in the media and therefore decided to go and meet pioneers of a new economy, more respectful of people and of nature. Inspired by these projects, we decided to select only a few social entrepreneurs to spend more time with them and share the daily life.
After having met many social entrepreneurs in London, Paris, or Vienna (video links), we better understood the main two challenges that social entrepreneurs are facing.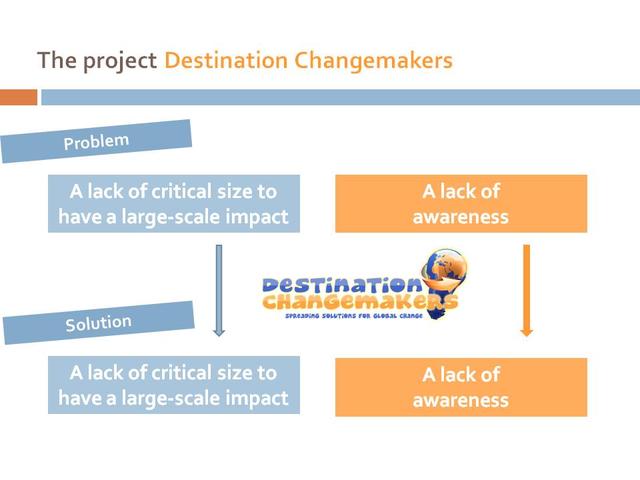 After one year and a half of preparation, we have selected 4 amazing social entrepreneurs. Whether they are Filipino, Indian, Senegalese, or French, they are all struggling against major society issues (poverty, malnutrition, pollution, etc...) through innovative entrepreneurial initiatives.
They have all created an organization to face these issues. Their initiatives aren't yet very well known, but duplicated at a big scale, they have the potential to impact millions of people and "to put poverty into a museum", as the Pr. Yunus (Nobel Price 2006) says. We will work with these entrepreneurs during missions that we have been prepared with them since several months.
About social entrepreneurship
Social entrepreneurship is an emerging movement which is more and more considered by private actors (Danone, Schneider Electric, …), public organizations, and academic institutions (Harvard, Stanford, …). Recent studies prove that social entrepreneurs have a real economic and social impact on society (cf. study realized by McKinsey).
Welcome in this adventure which will lead us to meet heroes of the 21st century!We particularly invite you to be part of this adventure, through the raffle that we organize.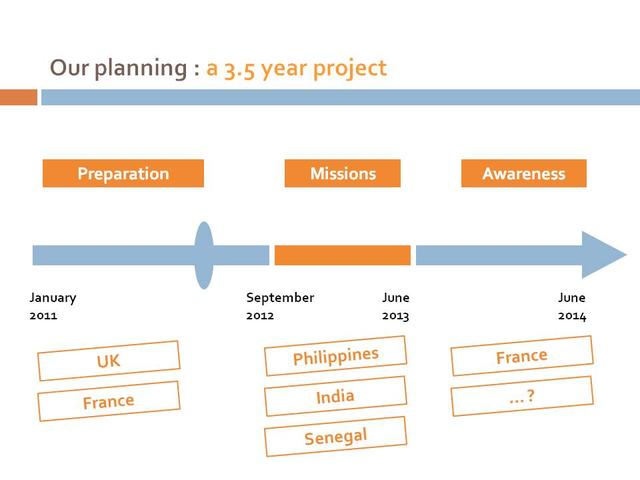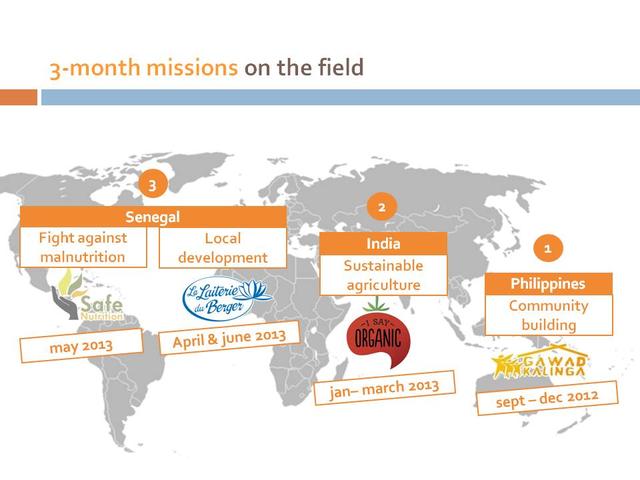 1. First mission: Gawad Kalinga, Philippines (September – December 2012)
Since 15 years, Gawad Kalinga has built in the Philippines around 3000 villages for the poorest of the poor. Its founder, Antonio Meloto, has received several international awards. Today, the more advanced village of Gawad Kalinga, called the "Enchanted Farm", gathers more than 20 social enterprises which contribute actively to the economic development of the community.
Our mission: analyze the amazing development of this "Silicon Valley of social entrepreneurship" and study how it could be replicated; develop a partnership between Gawad Kalinga and Schneider Electric for access to sustainable energy.
2. Second mission: I Say Organic, India (January – March 2013)
I Say Organic has decided to reinvent the Indian agricultural system through organic agriculture. By reducing the number of intermediaries between the producer and the consumer, and by giving to small producers efficient management tools, I Say Organic pays little producers a higher price than the market average.
Our mission: accompany I Say Organic in its development strategy and fundraising
3. Third mission: La Laiterie du Berger, Senegal (April and May 2013)
La Laiterie du Bergercollects the milk from Fulani stock breeders and makes yoghurts with it. This activity contributes to improve the economic situation of this stock breeders by giving them a stable source of revenues.
Our mission: write the learnings of the first years of activity of La Laiterie du Berger and organize the first event of danone.communities in the Senegal to promote social business.
4. Fourth mission: Safe Nutrition, Senegal (June 2013)
Safe Nutrition is a start-up which has the objective to fight malnutrition through food supplement produced with local alfalfa. Alfalfa extracts are a revolutionary solution to fight malnutrition and is unfortunately today under-exploited.
Our mission: work with Safe Nutrition on its business model and on its research of partners.
To know more and follow our adventures:
- Our website: www.destinationchangemakers.com
- Our facebook page: Destination Changemakers
- Our twitter account: @DChangemakers
What are the funds for?
During our missions and when we will be back to France, we wish to share our experience with you. To do so, we will publish articles and will organize events. But we especially want to realize videos.
It is for such an investment that we are organizing this raffle.
To realize videos of quality and share them with a large public, we will have to invest in good equipment.
Here is a video of presentation of our project realized more than one year ago. It has been  with an Iphone and a very basic software… You can notice the evolution of the project, especially regarding the destinations:
Contributing to this raffle is giving us the opportunity to share efficiently our adventure with you!
Participating to this raffle is also for you an opportunity to get a chance to join us for free around the world and to meet entrepreneurs who are changing the world!
About the project owner
We are two students (Jonas & Matthieu) who are making a gap year in a business school (ESCP Europe).We have decided to dedicate a second gap year for our project. We are part of the community MakeSense, a youth network which helps social entrepreneurs to solve their challenges.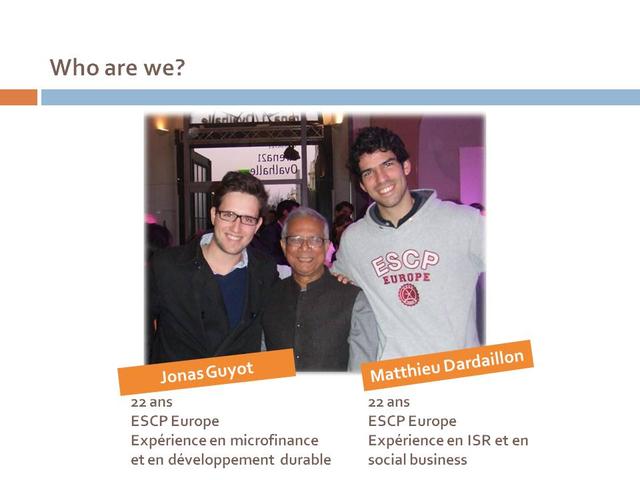 Jonas
Student at ESCP Europe, I am very interested in social business. This passion really started during an internship among the Center for Social Innovation (CSI) of the Filipino NGO Gawad Kalinga, where I discovered the real impact of social entrepreneurship.
I have just finished a 6-month internship in Microfinance at BNP Paribas, after an experience in sustainable development consultancyat Doing Good Doing Good.
Matthieu
Student at ESCP Europe, I have been involved in many student projects, always linked to my social and environmental sensibility. I have especially created the student society Star Trekk' ESCP Europe, which organizes an eco-friendly trek on a yearly basis.
After an experience in Socially Responsible Investments(SRI) in London, and an experience in Human Resources in Danone, I have just finished an internship amoung danone.communities: I have worked on community management and on promotion of social business.
Destination Changemakers is for us a great opportunity to discover social entrepreneurship and participate concretely to this emerging movement. Many social innovations have been designed in developing countries, but could inspire us to improve the fight against poverty in developed countries (it is reverse innovation!)… This project will be for us a great source of inspiration to create our own social enterprise in the future!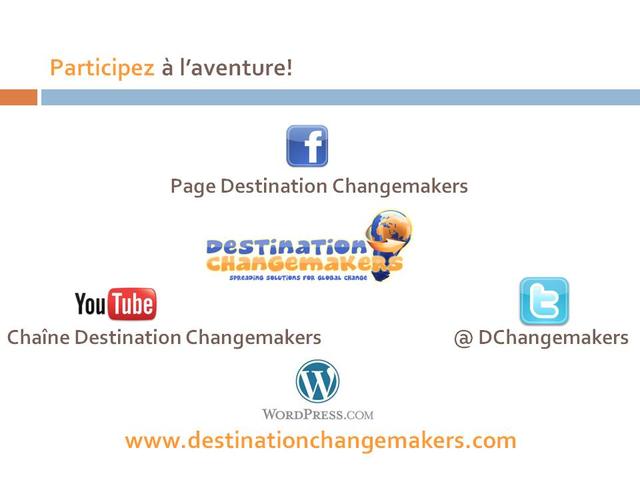 This fundraising is finished
For $7 or more
The happiness to support us
+ a free invitation to our photo/video exhibition once back
+ a free subscription to our newsletter
+ your name on our "Contributor Page" on our website
+ some "upon resquest Skype appointements"
(= "godfather/godmother counterparts")

For $14 or more
The "godfather/godmother counterparts"
+ a ticket for the "What if you joined us" lottery (First price : a plane ticket to join us on a mission / Philippines, India or Senegal)
+ a monthly sending of our most beautiful pictures, by e-mail

For $28 or more
The "godfather/godmother counterparts"
+ 2 tickets for the "What if you joined us" lottery (First price : a plane ticket to join us on a mission / Philippines, India or Senegal)
+ a monthly sending of our most beautiful pictures, by e-mail
+ we send you by mail a picture of us… doing what you want us to do J

For $69 or more
The "godfather/godmother counterparts"
+ 5 tickets for the "What if you joined us" lottery (First price : a plane ticket to join us on a mission / Philippines, India or Senegal)
+ a monthly sending of our most beautiful pictures, by e-mail
+ we send you by mail a picture of us… doing what you want us to do J
+ we send you by post a selection of our most beautiful photos, with a personal message

For $137 or more
The "godfather/godmother counterparts"
+ 10 tickets for the "What if you joined us" lottery (First price : a plane ticket to join us on a mission / Philippines, India or Senegal)
+ a monthly sending of our most beautiful pictures, by e-mail
+ we send you by mail a picture of us… doing what you want us to do J
+ we send you by post a selection of our most beautiful photos, with a personal message
+ a copy of the DVD we will realize
+ a souvenir from the country of your choice

For $274 or more
The "godfather/godmother counterparts"
+ 20 tickets for the "What if you joined us" lottery (First price : a plane ticket to join us on a mission / Philippines, India or Senegal)
+ a monthly sending of our most beautiful pictures, by e-mail
+ we send you by mail a picture of us… doing what you want us to do J
+ we send you by post a selection of our most beautiful photos, with a personal message
+ a copy of the DVD we will realize
+ a printed photo album of our most beautiful photos
+ a souvenir from the country of your choice
+ a personal souvenir from a social entrepreneur we will work with

Early Birds