About
The whole idea summed up in less than 10 lines :

Bureaudemode.com will not be just another online shop on the world wide web, but THE place for up-and-coming cool and edgy designers, who design clothes and accessories with a neon touch, patterns from out of space or necklaces enbroided with fake hair.

In a few words, you give money (from 5€), you receive a gift in exchange (a tote bag, a credit to purchase something on the site, a personalized  fashion tip), you help young designers  and tomorrow you finally get a place to buy all sort of things for your edgiest oufits. It's a "win win" in the shopping world.
Example :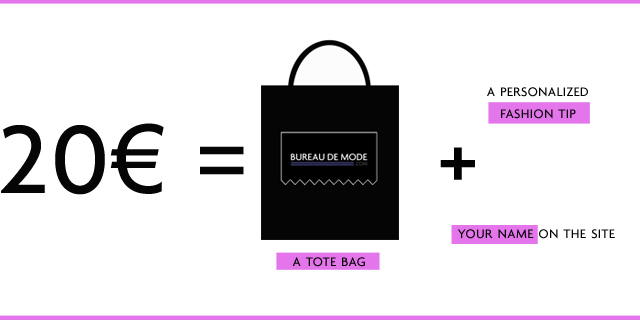 If the goal of 3000€ is not reached before December 10, you get your money back, bureaudemode.com does not get a single euro (and we'll be as sad as kittens without their mummy).

This is for the short version. For the detailed one, it's just below.
++++++++++++++++++++++++++++++++++++++++++++++++++++++++++++++++++++++++++++++++
The www.bureaudemode.com online store project is brought to you by Von Engelswacht bureau de mode.
/// WHAT IS VON ENGELSWACHT BUREAU DE MODE ? ///
          Von Engelswacht Bureau de Mode was founded in 2009 with the goal of helping the numerous talented up-and-coming French fashion designers with the non-creative side of the fashion business, including: defining a development strategy, positioning themselves on the market, effectively communicating their brand, or even selling their products. All these tasks are ones that might seem daunting, but are necessary to evolve from an idea (an incredible clothing item, a useful bag) to the creation (how to produce, where to make it) and then to the commercialization (who to sell to and how to distribute).

          Von Engelswacht has consequently made its mission to guide up-and-coming fashion designers in the development of their brand by taking charge of all these concrete aspects and leaving them to concentrate solely on their designs.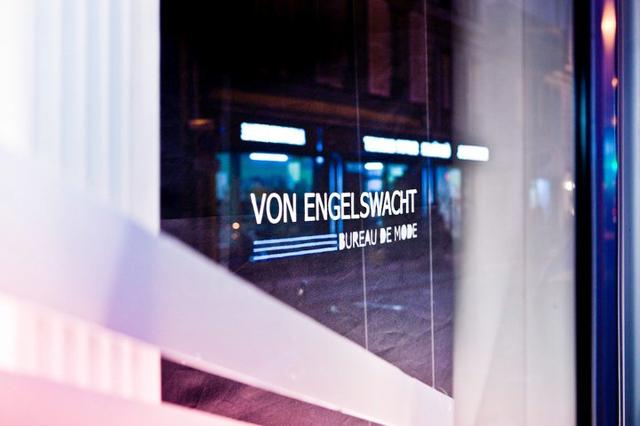 Included in Von Engelswacht's mission is to provide a showroom (space for the designers to display their work) and workshops, where the designers can have a sort of office away from home to work on their creations and share their experience and know-how with the other designers in a stimulating and professional environment.
Some images from the inauguration of the Von Engelswacht showroom at 12 blvd Saint Martin in Paris, the 5th of January 2011 (and other videos are available on Von Engelswacht's Vimeo page) :
          Since its creation, Von Engelswacht Bureau de Mode has already kick-started numerous projects and has helped the many designers it represents to develop: selling collections (to professionals but also to the public thanks to the sales called Bureaux de vente), attracting attention from the press (by organizing collection launch parties in the showroom, most recently the launch of joki business's collection "a week in bed"; or by lending pieces out to celebrities such as TV show host Daphné Burki), collaborating with other brands (like William Geandarme with Cool and the Bag), or even with artists (like the singer Emilie Simon or the airmusic group the  Airnadette).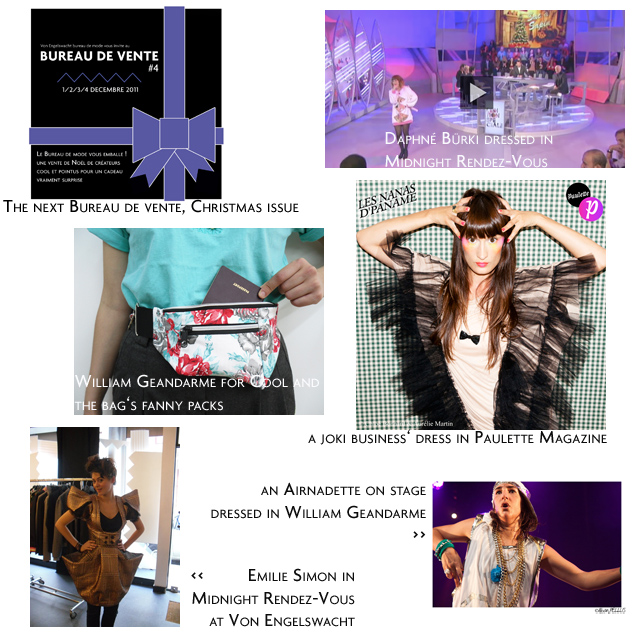 Von Engelswacht has also worked hard to position itself among the experts by providing fashion consulting through diverse media outlets (in 100% Mag on M6 music channel, in the Fashion Police section of Grazia magazine, or even in the men's magazine GQ). The Von Engelswacht signature can also be found on the website of the monthly women's magazine Glamour, Glamourparis.com.
I invite you to take a look at the press review of Von Engelswacht on its Facebook page to hear what is being said about the Bureau de Mode.
          Today, Von Engelswacht continues to advance in these areas, but with further consideration we have been drawn to start another project: the opening of an online store.
/// WHY SHOULD WE OPEN AN ONLINE STORE ? ///
Opening an online store would help fulfill three objectives:
- Provide a channel of distribution for brands that aren't widely distributed for the moment and providing better margins for the designers than if they were to sell to resellers
- Reach a larger public than any local sale in Paris could ever reach by providing a bilingual website with international shipping.
- Increase the notoriety of brands by positioning themselves among other cool and edgy designers.
          Today, thanks to the free and personalizable frameworks available (we will be using Prestashop), creating an online boutique is no longer a huge investment, but it is one that that will pay off even if we only start with small orders.
///  WHAT WILL BUREAUDEMODE.COM LOOK LIKE ? ///
          To limit costs and stick to the image Von Engelswacht already has, the design of www.bureaudemode.com will be the signature Von Engelswacht graphics in simple dark colors on a white background.
As for the signature graphics use on the site www.vonengelswacht.com (and in all the other communication from the company), the online store will use: the electric blue lines, the mountain range, the 3 horizontal lines, the transparent grid and the laser beams.
These graphics will be used on a white background so the site will appear cleaner and less distracting.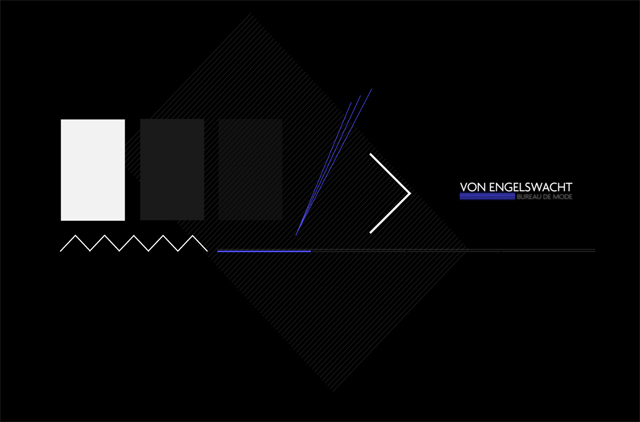 The site will have to be, above all, functional and easy to navigate, because what will really make a difference with other online shops will be the products sold, which originality can not be compared.
For example, this is the logo: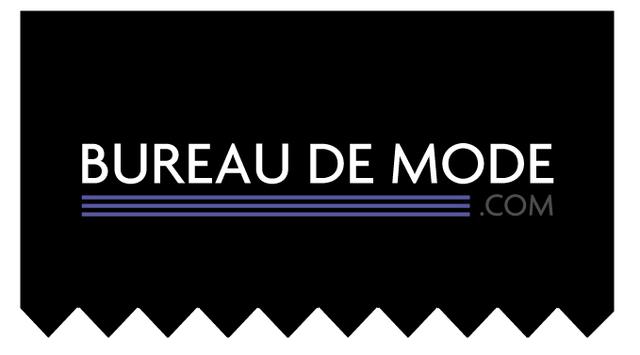 /// WHICH DESIGNERS WILL BE SOLD ON BUREAUDEMODE.COM ? ///
          The designers who are at the heart of the project will be those who are represented currently by  Von Engelswacht Bureau de mode, this being said, the aim of the site is not to be limited to only these designers, but to become THE place for up-and-coming cool and edgy designers who are often not well-known and are  not well-distributed, but who have a unique style and creative collections.
To get a better idea of what bureaudemode.com will offer, click on these images to be taken to each designers sites.
/// TO GET MORE INFORMATION ON VON ENGELSWACHT AND ITS DESIGNERS ///
Visit the site www.vonengelswacht.com
Find Von Engelswacht on facebook: www.facebook.com/vonengelswacht
Don't hesitate to contact me at alicia@vonengelswacht.com for more information on this company with a strange name and large ambitions.
And you can even like the bureaudemode.com facebook page: www.facebook.com/bureaudemode
What are the funds for?
The funds collected will help to finance:
- the cost of the graphic designer hired to create a completely personalized online store
- the cost of the Pretashop addons which will help to make the site effective and easy to navigate
- the cost of the photography equipment which will be used to create high-quality images of the products
and if the goal of 3 000€ is exceeded :
- the cost of an event to inaugurate the opening of the online store
- the cost of the services provided by the press office
- all other costs involved with spreading the word of the site to ensure its success.
          Von Engelswacht Bureau de Mode is a company built without the help of a bank or a loan, but solely through the contributions from my personal network and those of the designers working with Von Engelswacht. The desire to stay independent all while being able to invest in a project which would boost sales (and of course keep the company alive) was my main reason for reaching out to the Ulule community.
And for all who have wanted to contribute to the company but have not had the means or opportunity in the past, this is a chance to show your support in many more ways than just through donations.
          I would like to think that Von Engelswacht will remain a familial company where the designers feel supported both financially and morally by those who believe in the company and who have also recognized Von Engelswacht as more than a job for us all.
About the project owner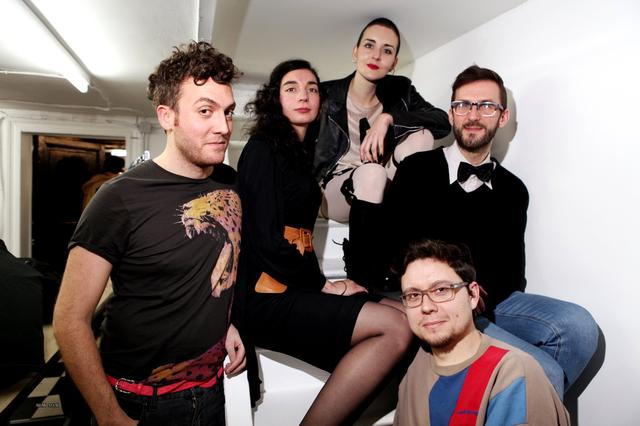 After graduating from Science Po Paris, the first part of my career started in the music industry where I stayed for five years as a distribution manager of an independent catalog at a well-known company in the record industry.
In 2009, I decided to open Von Engelswacht Bureau de Mode with the help of my close friends and family which has allowed me to have the necessary funds to run the company, a SAS with a capital of 23 200€.
At the same time, I am also a fashion columnist for www.glamourparis.com, a weekly contributor at www.brain-magazine.com, and I am also a part of the event planning organization The Bigger Splashes (www.mortauxjeunes.com).
You can find my resume online on Viadeo and Linkedin.
In the picture, I am surrounded by the designers who have been a part of Von Engelswacht since its creation and have hugely inspired the concept: Vincent, William, Renaud and Rebecca. Special dedication to them. 

Special thanks to Caitlin S., devoted former trainee, who translated this page into English.
News
This fundraising is finished
For $7 or more
Your name among the list of donators on www.bureaudemode.com
For $14 or more
The previous reward PLUS a personalized styling advice by one of the designers in the company or by its founder (an answer to a question asked through email)
For $28 or more
The previous rewards PLUS a bureaudemode.com tote bag
For $70 or more
The previous rewards PLUS access to the private sales on bureaudemode.com and free shipping on your first order
For $139 or more
The previous rewards PLUS a credit of 30E on bureaudemode.com
For $278 or more
Rewards from 5E to 50E PLUS a credit of 80E on bureaudemode.com
For $695 or more
Rewards from 5E to 50E PLUS a 150E credit on bureaudemode.com as well as an afternoon of fashion styling with the designers in the showroom and the chance to try their latest pieces from their collections.
Early Birds

Official Users ♥ it !