About
                                         Refugees' situation in Lebanon
Since the beginning of the Crisis in March 2011, the number of Syrian refugees has been increasing in the Lebanese territory from 3000 persons in May 2011 to 20.000 in April 2012 (according to UNHCR data's). The majority of Syrian people (that are women and children) are temporarily settling in two main areas, Northern Lebanon and the Bekaa Valley and to the big cities of Tripoli and Beirut.
It must be noted that these people are not being given full refugee status, as the Lebanese government is reluctant to host them officially (they are referred to as "displaced").
Fear of being identified as a Syrian refugee and being reported to the Syrian security forces is a main concern for them, which is why many do not register for assistance. They do not feel safe even after crossing the border to Lebanon. This fear and the limited mobility options keeps most of the refugee families from moving any further away than strictly necessary, which, added to the crowded living conditions, creates stressful and tense living circumstances for all family members. 
There is need for assistance to provide protection, ensure security, and meet basic needs and to ensure access to essential services (education, health). Efforts are underway from a variety of actors to tackle the different issues, but not all of the refugees are being reached and their numbers keep increasing.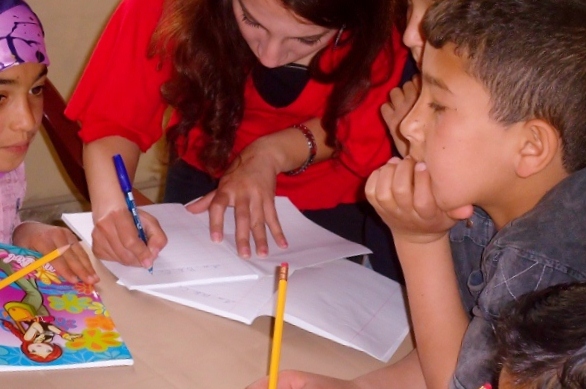 Educational difficulties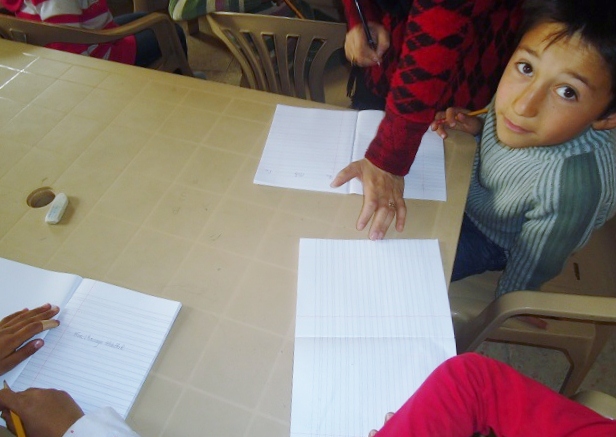 Education Minister  gave the permission to all Lebanese schools to enroll Syrian students and allow them to take into consideration their parents' difficulty in submitting the required documents. 
However, most children are out of school. The main reasons identified are the difference of curricula, limited mobility to reach the schools and  parents fear to face discrimination and difficulties in integration at school. Many who have arrived in recent months have not been enrolled because the scholastic year is about to end (the end of June).
                                                           Situation in Arsal
Up to now in the town of Arsal, 130 children are enrolled in various grades in 5 governmental and 8 private schools . It is estimated that there are at least 450-500 children between 5 and 11 years who are not attending the school. Although some local and international organizations are providing assistance in terms of distribution and accommodation, there is a lack of educational and psychosocial assistance for the children and their families.
In partnership with Arsal Rural Development Association, Terre des Hommes Italia is implementing a project of Remedial classes, recreational  activities and psycho-social support  for Syrian and Lebanese children in Arsal.

                                                           Our project in Arsal
The project specific objective is to support at least 300 Syrian displaced  children residing in Arsal, as well as their caretakers and hosting communities by providing Safe Spaces, supportive education, psychosocial support programs and other related recreational and cultural activities.The intervention is organized in three main components
a. Safe Spaces. The project will create 4  Safe Spaces  accessible to a total number of 300 Syrians children, their Lebanese peers and their caretakers. The organization of a program of recreational, cultural and sport activities, including the promotion of some special events such as creation and  dissemination of animation movies, cultural trips, exhibition, tournaments. The safe places  will be activated in identified local schools equipped with an outdoor playground.
 The activities program will encourage also the participation of youth and adults in order to make the Safe spaces center of community mobilization, gathering places and also focal points where information about available services and opportunities is spread. Accessibility to the safe places will be guaranteed also to children located in remote areas through the organization of a transportation services contracted with local companies.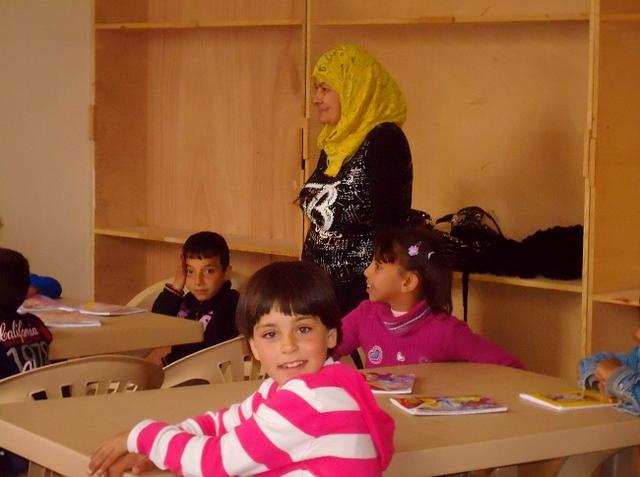 b. Education component. In order to restore an education environment for children out of schools and to support those enrolled to cope with the identified gaps, the project will provide remedial classes to Syrian and Lebanese children aged 6-15 with specific needs. The lessons will take place both in schools and in specialized centers such as ARDA center in Arsal. During the summer, we will continue to provide these services. 
The lessons will take place daily (in afternoon time until the closure of the schools, in morning time during the summer) 4 hours per day, 4 days per week. . The supportive lessons will focus on the main subjects: Arabic, Math, Science and foreign language (English or French accordingly to the language tough in the Lebanese schools in the operational area). 
A set of integral activities to the supportive lessons will be organized in order to ensure the attendance and set up a positive and active educational environment:
Awareness campaigns
Recreational activities structured within educational goals
Home visits to the families in order to maintain the enrollment rate and to follow up the needs of the students, their families and the hosting families.
Support to the families and the schools to facilitate the process of legalization of the position of the children
Transportation for the children to/from the facilities that host the activities and to/from school.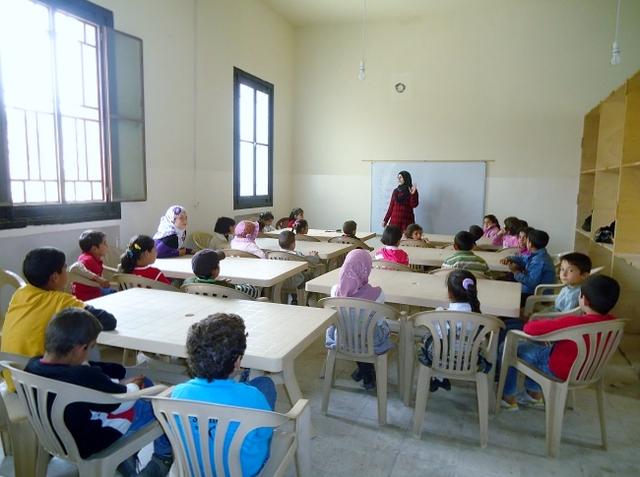 c. Community outreach This part of our project aims at improving the children and their families' wellbeing through outreach activities targeting the children's community and their caretakers. Community workers, teachers and other staff will be responsible to carry out home visits in order to monitor and follow-up the children situation and their progresses in education and manage the relation with the families. Each target family will be visited at least 3 times over the 6 month of intervention. At the same time, Syrian and Lebanese parents will benefit from awareness sessions on various topics concerning the psychological, social and health aspects of the child sphere. This activity will be part of a broader inter-agency and partners' initiative aiming to reduce the school drop-out rate, and to improve the protection environment among the displaced.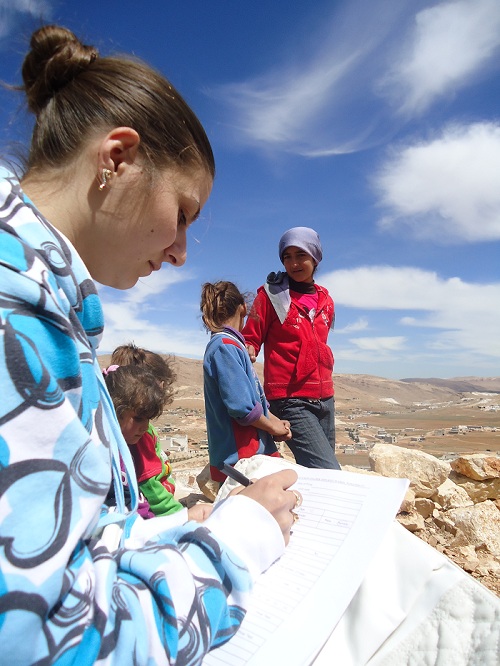 What are the funds for?
Your funds will be used for the second component of our project (the remedial classes) and will help us to provide 300 school-kits for all Syrian and Lebanese children that will atttend our supportive lessons, inside the center of ARDA and in the schools during the afternoon.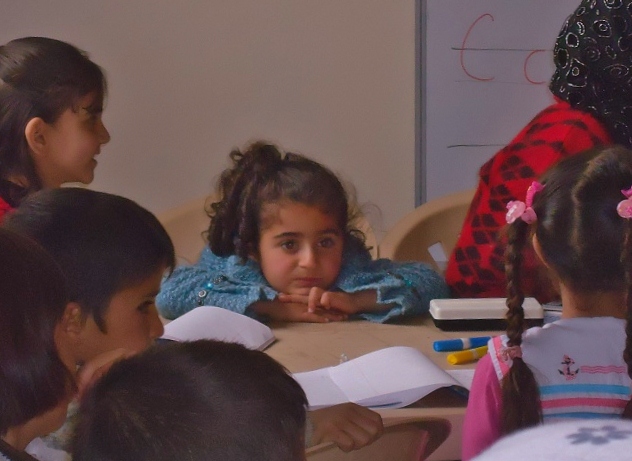 About the project owner
To protect the rights of children in developing countries, without racial, religious, political, cultural or gender-based discrimination: this is the mission of Terre des hommes Italy, a non-governmental organisation based in Milan and member of the International Terre des hommes Federation.
Terre des hommes Italia (TDH Italy) was founded in 1989 in Milan (Italy), by a group of prominent entrepreneurs and lawyers sensitive to Human Rights, as a non-profit organization.
Terre des hommes Italy assists 100,000 children and 400,000 people with 70 projects in 22 countries. 
Terre des hommes Italia, projects in Lebanon
Before 2006 TdH-It supported Terre des hommes Losanne within a project aimed at rehabilitating children in conflict with the law.
2006 (July):  TdH-It in collaboration with the local partner Naba'a, developed an emergency intervention financed by ECHO in favor of the displaced coming to Saida from the villages of south Lebanon.
2007: in consortium with Save the Children Italia and thanks to the emergency programme of the Italian Ministry of Foreign Affairs and in partnership with Naba'a, TdH-It started an intervention in the Lebanese schools of 10 villages in the South.
2008-2010: the above mentioned intervention has been expanded to 22 villages including Akkar area.
www.terredeshommes.it
This fundraising is finished
For $7 or more
Special thanks from our project manager in Arsal sent to your personal e-mail!
For $21 or more
Previous rewards
+
Monthly newsletter about the children that we will help during our project thanks to your help!
+
Children's pictures taken during the various activities that we will send on your email adress
For $69 or more
Monthly newsletter about the children that we will help during our project thanks to your help!
+
Children's pictures taken during the various activities that we will send on your email adress
+
Children's drawings that we will send to your house!
For $110 or more
All the previous rewards
+
Children's photos (13x24) taken during the various activities and relaxing moments that we will send to your house!
Early Birds