About
The genesisof the worldshownfrom the appearanceof man.

 
The proposal:

 The entire seriewill be basedon therivality betweentwomen whoarrive on earth withameteor rain,  Gromand Grum.The strong pointof this serie issocial relationships:human behavior, philosophy, psychologytreatedin a verysubtle way.There are nodialogues,only growls,grunts,gesturesandexpressions.

The seriewill be made oftwo-minute episodes . Thecourse of theseries shows the evolutionof the twomain charactersthrough the ages who remain rivals.

Grom is the most aggressiveand brutalcharacter, whom did not evolve as fast as Grum on the civilization process.
The pilot episode starts with the arrival of Grom and Grum on earth. With the scarcity of food, Grom fiercely attacks Grum. Beingstronger,the episodeends with Gromwinningthinking that hadeliminatedGrum.
Visual Conception:
The serie isall built inmixed media,animationclipsvaluingthe speed andcreative freedom. Only two human shaped models were created  which differenciate by their textures. All softwares used on this work will be open source.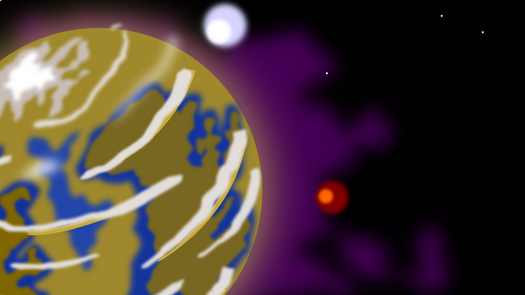 What are the funds for?
The funding is meantto help create the websiteand the pilot episodeof the serie.

- About thesite, the costsare:domain registration,hostingserverstreaming,site creationand its maintenance throughout the series.

- For the pilote episode: Remunerationof other professionels that willparticipate on thecreation, animation,and editingof the final video.

Detailed budget:
- Creation of thesite: R$ 1.300
- Anual hosting:R$ 150
- Design:R$ 1.000
- Animation,layout:R$ 2.250
- Creation andcopies ofDVDs:R$ 200
- Shipment costs: R$ 100
Promo Video:
About the project owner
I am a Brazilian Illustrator and Animator; I have my one small company and I Work with open source tools as: Blender, Gimp, Inkscape, Synfig.
You can take a look at my site for animations, illustrations, and other cultural projects. All made with open source and under Creative Commons.
Other titles:
Efeito Borboleta (Butterfly effect)
A História de um Casal (History of a couple)
Mitologia do Submundo (Mythologyof the underworld)
Nós somos assim (We are this way)
For other videos and animations:
http://www.vimeo.com/ricardograca

My portfolio:
http://www.ricolandia.com
This fundraising is finished
For $3 or more
Your name on the "special thanks"
For $5 or more
The above + Special access on the website, to see the serie on HD quality
For $9 or more
The above + Link to download the episode on DV et HDV, with the printable artwork
For $13 or more
The above + I'll send you the DVD of the serie
For $18 or more
The above + Online workshops about animation on free softwares
For $22 or more
The above + a 2 hours online workshop in group about animation on free softwares
For $44 or more
The above + A 2 hours private online workshop about animation on free softwares
Creator
rico
Ricardo Graça
Brasil
Early Birds
Someone from

São Gonçalo, BR

Someone from

São Gonçalo, BR

Someone from

São Gonçalo, BR

Someone from

belo horizonte, BR