About
Their saucer-eyes peered out from behind bars, their scrawny bodies were strapped to the beds they slept in. Who could forget the terrible images of the Romanian orphans that stared from newspaper front pages following the fall of the Romanian dictator Nicolai Ceaucescu in 1989?
After Ceaucescu's execution, it emerged that hundreds of thousands of uncared and mistreated children had been hidden in crumbling institutions all over the country.
I witnessed the lives of these children first hand when I worked in Romania with a French charity we had created with friends, Action Orphelins. Between 1993 and 2000, I visited the same orphanage in Popricani near Iasi, in the North East of the country and built up a strong relationship with many of the children who were living there life in appalling conditions.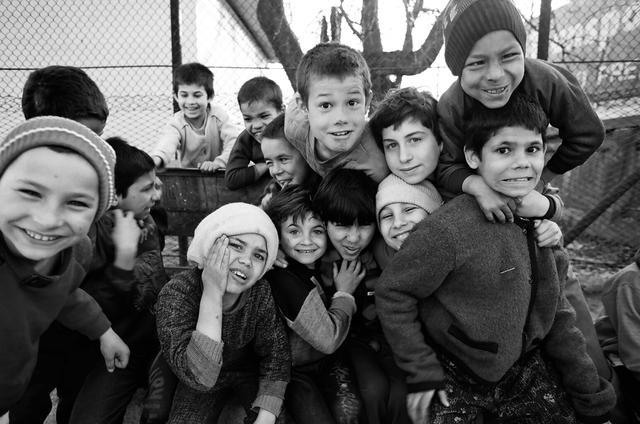 In December 2006, just before Romania joined the EU, I went through all my Romania photo archive from the 90s : I re-discovered hundreds of forgotten images of faces I could never forget.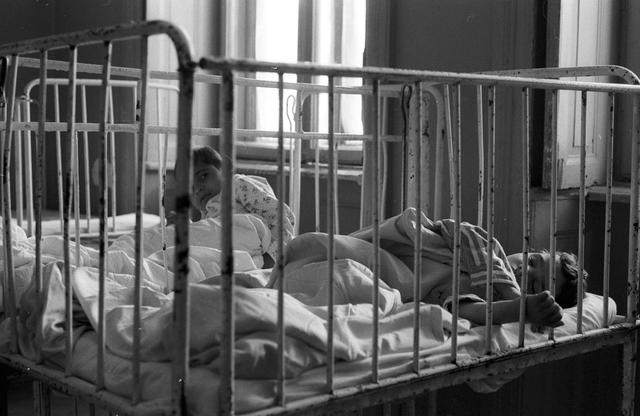 I wondered what had happened to them. So I returned to Romania to track them down, in Popricani first, then elsewhere in the country and in Europe.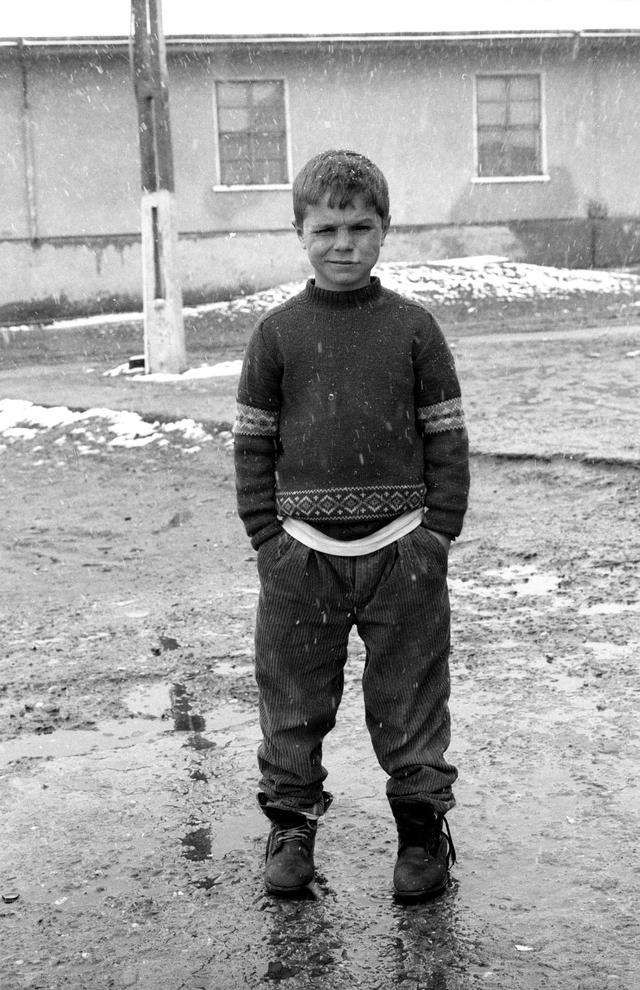 I undertook this extraordinary adventure thanks to my Romanian friend, Dan, ex-social worker at the orphanage (which closed down in 2002 and became an institution for mentally disabled adults). He helped me find the kids.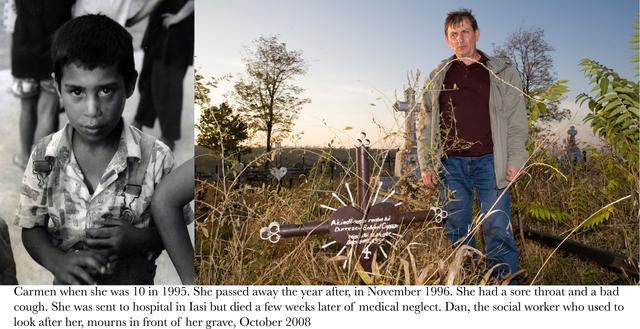 After a few trips since 2006, I managed to find 30 kids : Radu had made a success of his life. He had studied veterinary science and after working in the UK for several summers as a fruit picker, was planning to emigrate to the UK. Liliana had become a mother of 3 and lived with her husband in the village. Daniel had become the handyman of the ex-oprhanage. Others had been less lucky: B was sex trafficked to Italy, before being rescued and returned to her village. Adriana had become a single mum begging on the streets of Iasi. Carmen had died years earlier after she had become ill and been admitted to hospital.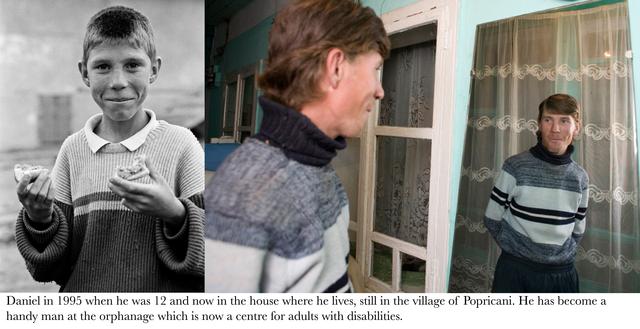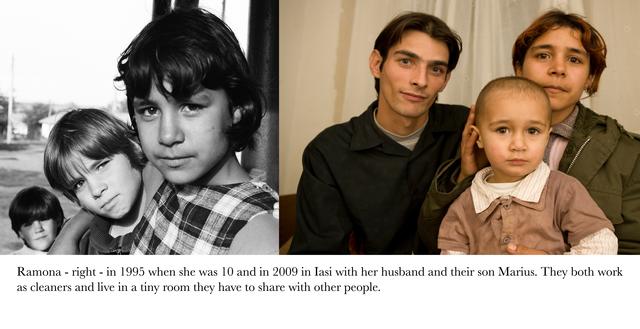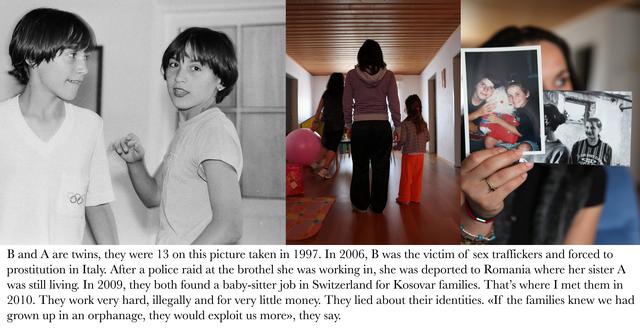 In March 2012, The Romanian Institute in Paris will exhibit my project. It's a huge step for me to have my work recognised and supported by a Romanian institution. In order to achieve my project in time, I am willing to track down a few more kids.
I am planning at least two more trips to Romania and one to Italy where a few have migrated. By looking at my old pictures with Dan, we managed to identify a few more ones I am going to photograph and inerview. Among them, Dragos, who became a monk in a beautiful monastery in Bucovina. 
What are the funds for?
The funds will help finance my next trip to Romania in October and achieve my project which will be finalised as an exhibition and a book featuring the pictures of the children then and now with their stories.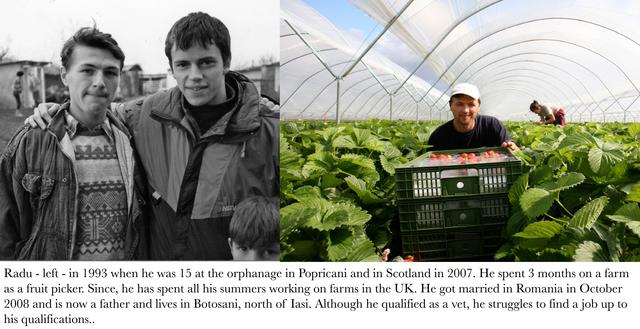 I estimate that my next trip will cost 900 € (220 € for the plane tickets, 130 € for the local travel expenses, 280 € for the accomodation costs, 200 € for translation/fixing + 5% for the Ulule and paypal costs)
About the project owner
After studying maths and teaching them for 9 years, I radically changed my career 8 years ago to become a photographer and a writer. 
Since the age of 10 and the purchase of my first camera, I have always carried with me one of these wonderfuls objects. One never knows what can happen!
I lived in Togo for 4 years between 1997 and 2001 before I moved to London. In Africa, as well as being a teacher at the French school, I started to work on social photo projects such as the Carrier Girls in Lomé. I also began to exhibit my work and sell features to magazines in France.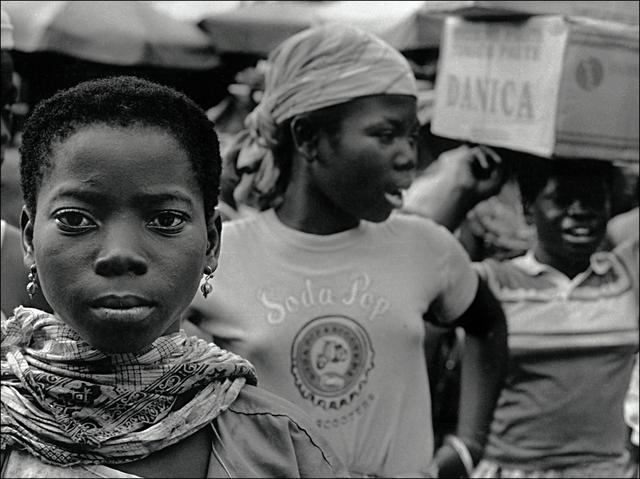 In Great Britain, I developed my photojournalism carrier by working on more social issues as the Irish Travellers and started a great collaboration with Time Out Magazine. Today, I am also working with different French and Belgian magazines and papers, collaborating with a few British and Irish publications. I also work for the American Travel Guides Frommer's. 
A first part of my project "Ceaucescu's orphans, 20 years on" was published in 2009 in The Times Magazine. 
For more information, please get in touch : elisabethblanchet@hotmail.com, www.elisabethblanchet.com
This fundraising is finished
For $7 or more
A postcard from Romania
+
Your name in the "thank you" list
For $21 or more
A 13 x 18 cm print signed by the artist among a choice of 4 images or diptyques
+
Your name in the "thank you" list
For $42 or more
A 20 x 30 cm print signed by the artist among a choice of 6 images or diptyques
+
Your name in the "thank you" list
For $69 or more
A 30 x 40 cm print signed by the artist among a choice of 8 images or diptyques
+
Your name in the "thank you" list
For $103 or more
A 40 x 60 cm print signed by the artist among a choice of 10 images or diptyques
+
Your name in the "thank you" list
For $137 or more
A 40 x 60 cm print signed by the artist among a choice of 12 images or diptyques
+
A signed copy of the book
+
Your name in the "thank you" list

For $685 or more
A 60 x 80 cm print signed by the artist among a choice of 16 images or diptyques
+
2 signed copies of the book
+
Your name in the "thank you" list
Early Birds
Someone from

Grenoble, FR

Someone from

Dunkerque, FR
Someone from

Saint Laurent du Var, FR

Someone from

Saint Laurent du Var, FR

Someone from

Montreal, CA
Someone from

L'Isle d'Abeau, FR